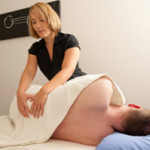 Pains seem to sneak up on us – but once they are with us they niggle restlessly.
As an osteopath, I treat muscle and joint pain almost everyday. The most common injuries are neck pain, headaches and backpain. In general, the longer you leave the pain – the more treatments required to treat the pain. So overcoming your soreness early is better for your physical state and your wallet.
Have You Download Our Guide?
Have you downloaded our 10 tip guide? It helps you ensure your getting the most out of your practitioner. The tips in this guide are based on years of patient feedback and industry observation. Your health is your most valuable asset, so it makes sense to ensure you take the time to be informed about choosing the right practitioner.

 Download the 10 tips to choosing the best practitioner (1MB)
Book an Osteopathy Treatment
Take your time to select the best practitioner for you. We're committed to getting the best out of your body. To book an appointment with us,
Call: (03) 9827 5315 (24 hour service)
Email: Send us a message below and we'll get straight back to you