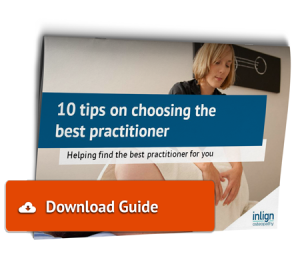 A sore neck is hard to escape. Turning your head is part of almost every action. So your neck pain affects your quality of life and your mood.
Because your health is your most valuable asset, choosing the right practitioner to treat your sore neck is important. You need someone that you can trust. And someone who can diagnose and help manage your pain. With so many different practitioners to choose from – osteopaths, physiotherapists and chiropractors – how can you decide which one is best for you?
Often, reading the difference between an osteopath, physiotherapist and a chiropractor can be confusing. The differences are usually confined to high level philosophies and approaches – when all you want to know is 'what will work best for me?'.
Instead of asking whether to choose an osteopath, physiotherapist or chiropractor, it's better to apply a universal assessment to all the practitioners you are considering.
Download the No Nonsense Assessment Guide

 Download the 10 tips to choosing the best practitioner (1MB)
The tips in this guide are based on years of patient feedback and industry observation. Your health is your most valuable asset, so it makes sense to ensure you take the time to be informed about choosing the right practitioner.
Book an Osteopathy Treatment
Take your time to select the best practitioner for you. We're committed to getting the best out of your body. To book an appointment with us,
Call: (03) 9827 5315 (24 hour service)
Email: Send us a message below and we'll get straight back to you